COVID-19 featured content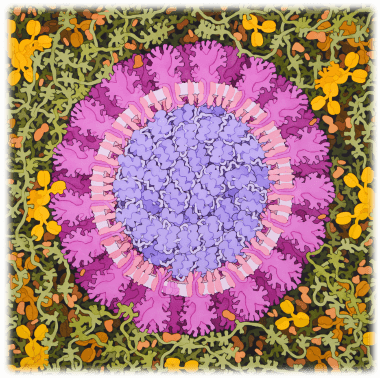 The recent outbreak of the Novel Coronavirus disease (COVID-19) is a serious threat to people all over the world. In order to understand and develop an effective drug against this virus (Severe Acute Respiratory Syndrome Coronavirus 2: SARS-CoV-2), structural work on the related proteins has already started and the resultant entries are accumulating in the PDB. PDBj provides a portal page for the COVID-19 related entries for our users. New entries will be added simultaneously with the public release from the wwPDB.
An explanation article covering one of the proteins of this virus is available on the "Molecules of the Month" page below:

The tab "All entries" contains all PDB IDs, in case you want to check all independent entries, including group depositions by the same authors. The "Repr. entries" tab contains only representative PDB entries with the highest resolution, excluding duplicate entries with 100% amino acid sequence identitiy, even if they contain a different ligand. Finally, the "Latest entries" tab contains the latest entries released this week.
---
Created: 2020-10-28
(last edited: 3 weeks ago)
2021-05-29
7EK6



Structure of viral peptides IPB19/N52
Descriptor:
Spike protein S2
Authors:
Yu, D, Qin, B, Cui, S, He, Y.
Deposit date:
2021-04-04
Release date:
2021-06-09
Method:
X-RAY DIFFRACTION (1.243 Å)
Cite:
Structure-based design and characterization of novel fusion-inhibitory lipopeptides against SARS-CoV-2 and emerging variants.
Emerg Microbes Infect, 2021


7EQ4



Crystal Structure of the N-terminus of Nonstructural protein 1 from SARS-CoV-2
Descriptor:
Host translation inhibitor nsp1
Authors:
Liu, Y, Ke, Z, Hu, H, Zhao, K, Xiao, J, Xia, Y, Li, Y.
Deposit date:
2021-04-29
Release date:
2021-06-09
Method:
X-RAY DIFFRACTION (1.25 Å)
Cite:
Structural basis and function of the N-terminus of SARS-CoV-2 nonstructural protein 1
To Be Published


5SAG



PanDDA analysis group deposition -- Crystal Structure of SARS-CoV-2 NendoU in complex with EN300-1605072
Descriptor:
3-(1H-imidazol-2-yl)propan-1-amine, Uridylate-specific endoribonuclease
Authors:
Godoy, A.S, Douangamath, A, Nakamura, A.M, Dias, A, Krojer, T, Noske, G.D, Gawiljuk, V.O, Fernandes, R.S, Fairhead, M, Powell, A, Dunnet, L, Aimon, A, Fearon, D, Brandao-Neto, J, Skyner, R, von Delft, F, Oliva, G.
Deposit date:
2021-05-19
Release date:
2021-06-09
Method:
X-RAY DIFFRACTION (1.881 Å)
Cite:
PanDDA analysis group deposition
To Be Published


5SA9



PanDDA analysis group deposition -- Crystal Structure of SARS-CoV-2 NendoU in complex with Z2697514548
Descriptor:
1-methylindazole-3-carboxamide, Uridylate-specific endoribonuclease
Authors:
Godoy, A.S, Douangamath, A, Nakamura, A.M, Dias, A, Krojer, T, Noske, G.D, Gawiljuk, V.O, Fernandes, R.S, Fairhead, M, Powell, A, Dunnet, L, Aimon, A, Fearon, D, Brandao-Neto, J, Skyner, R, von Delft, F, Oliva, G.
Deposit date:
2021-05-19
Release date:
2021-06-09
Method:
X-RAY DIFFRACTION (1.92 Å)
Cite:
PanDDA analysis group deposition
To Be Published


5SAD



PanDDA analysis group deposition -- Crystal Structure of SARS-CoV-2 NendoU in complex with Z425449682
Descriptor:
(3-phenyl-1,2-oxazol-5-yl)methylazanium, Uridylate-specific endoribonuclease
Authors:
Godoy, A.S, Douangamath, A, Nakamura, A.M, Dias, A, Krojer, T, Noske, G.D, Gawiljuk, V.O, Fernandes, R.S, Fairhead, M, Powell, A, Dunnet, L, Aimon, A, Fearon, D, Brandao-Neto, J, Skyner, R, von Delft, F, Oliva, G.
Deposit date:
2021-05-19
Release date:
2021-06-09
Method:
X-RAY DIFFRACTION (1.961 Å)
Cite:
PanDDA analysis group deposition
To Be Published


5SAI



PanDDA analysis group deposition -- Crystal Structure of SARS-CoV-2 NendoU in complex with Z1424343998
Descriptor:
N-{2-[(propan-2-yl)sulfanyl]phenyl}urea, Uridylate-specific endoribonuclease
Authors:
Godoy, A.S, Douangamath, A, Nakamura, A.M, Dias, A, Krojer, T, Noske, G.D, Gawiljuk, V.O, Fernandes, R.S, Fairhead, M, Powell, A, Dunnet, L, Aimon, A, Fearon, D, Brandao-Neto, J, Skyner, R, von Delft, F, Oliva, G.
Deposit date:
2021-05-19
Release date:
2021-06-09
Method:
X-RAY DIFFRACTION (2.022 Å)
Cite:
PanDDA analysis group deposition
To Be Published


5SAC



PanDDA analysis group deposition -- Crystal Structure of SARS-CoV-2 NendoU in complex with Z59181945
Descriptor:
CITRIC ACID, N-hydroxyquinoline-2-carboxamide, Uridylate-specific endoribonuclease
Authors:
Godoy, A.S, Douangamath, A, Nakamura, A.M, Dias, A, Krojer, T, Noske, G.D, Gawiljuk, V.O, Fernandes, R.S, Fairhead, M, Powell, A, Dunnet, L, Aimon, A, Fearon, D, Brandao-Neto, J, Skyner, R, von Delft, F, Oliva, G.
Deposit date:
2021-05-19
Release date:
2021-06-09
Method:
X-RAY DIFFRACTION (2.029 Å)
Cite:
PanDDA analysis group deposition
To Be Published


5SA4



PanDDA analysis group deposition -- Crystal Structure of SARS-CoV-2 NendoU in complex with Z239136710
Descriptor:
N-(5-methyl-1H-pyrazol-3-yl)acetamide, Uridylate-specific endoribonuclease
Authors:
Godoy, A.S, Douangamath, A, Nakamura, A.M, Dias, A, Krojer, T, Noske, G.D, Gawiljuk, V.O, Fernandes, R.S, Fairhead, M, Powell, A, Dunnet, L, Aimon, A, Fearon, D, Brandao-Neto, J, Skyner, R, von Delft, F, Oliva, G.
Deposit date:
2021-05-19
Release date:
2021-06-09
Method:
X-RAY DIFFRACTION (2.046 Å)
Cite:
PanDDA analysis group deposition
To Be Published


5SA5



PanDDA analysis group deposition -- Crystal Structure of SARS-CoV-2 NendoU in complex with Z1530301542
Descriptor:
4-ethyl-2-(1H-imidazol-5-yl)-1,3-thiazole, CITRIC ACID, Uridylate-specific endoribonuclease
Authors:
Godoy, A.S, Douangamath, A, Nakamura, A.M, Dias, A, Krojer, T, Noske, G.D, Gawiljuk, V.O, Fernandes, R.S, Fairhead, M, Powell, A, Dunnet, L, Aimon, A, Fearon, D, Brandao-Neto, J, Skyner, R, von Delft, F, Oliva, G.
Deposit date:
2021-05-19
Release date:
2021-06-09
Method:
X-RAY DIFFRACTION (2.09 Å)
Cite:
PanDDA analysis group deposition
To Be Published


5SAF



PanDDA analysis group deposition -- Crystal Structure of SARS-CoV-2 NendoU in complex with EN300-321461
Descriptor:
6,7-dihydro-5H-pyrrolo[2,3-d]pyrimidine, CITRIC ACID, Uridylate-specific endoribonuclease
Authors:
Godoy, A.S, Douangamath, A, Nakamura, A.M, Dias, A, Krojer, T, Noske, G.D, Gawiljuk, V.O, Fernandes, R.S, Fairhead, M, Powell, A, Dunnet, L, Aimon, A, Fearon, D, Brandao-Neto, J, Skyner, R, von Delft, F, Oliva, G.
Deposit date:
2021-05-19
Release date:
2021-06-09
Method:
X-RAY DIFFRACTION (2.11 Å)
Cite:
PanDDA analysis group deposition
To Be Published


5SAE



PanDDA analysis group deposition -- Crystal Structure of SARS-CoV-2 NendoU in complex with Z3219959731
Descriptor:
CITRIC ACID, Uridylate-specific endoribonuclease, pyridazin-3(2H)-one
Authors:
Godoy, A.S, Douangamath, A, Nakamura, A.M, Dias, A, Krojer, T, Noske, G.D, Gawiljuk, V.O, Fernandes, R.S, Fairhead, M, Powell, A, Dunnet, L, Aimon, A, Fearon, D, Brandao-Neto, J, Skyner, R, von Delft, F, Oliva, G.
Deposit date:
2021-05-19
Release date:
2021-06-09
Method:
X-RAY DIFFRACTION (2.12 Å)
Cite:
PanDDA analysis group deposition
To Be Published


5SAH



PanDDA analysis group deposition -- Crystal Structure of SARS-CoV-2 NendoU in complex with EN300-100112
Descriptor:
2-methyl-5,6,7,8-tetrahydropyrido[4,3-c]pyridazin-3(2H)-one, Uridylate-specific endoribonuclease
Authors:
Godoy, A.S, Douangamath, A, Nakamura, A.M, Dias, A, Krojer, T, Noske, G.D, Gawiljuk, V.O, Fernandes, R.S, Fairhead, M, Powell, A, Dunnet, L, Aimon, A, Fearon, D, Brandao-Neto, J, Skyner, R, von Delft, F, Oliva, G.
Deposit date:
2021-05-19
Release date:
2021-06-09
Method:
X-RAY DIFFRACTION (2.16 Å)
Cite:
PanDDA analysis group deposition
To Be Published


7N0I


5SA7



PanDDA analysis group deposition -- Crystal Structure of SARS-CoV-2 NendoU in complex with Z1673618163
Descriptor:
4-amino-N-(2-hydroxyethyl)-N-methylbenzene-1-sulfonamide, Uridylate-specific endoribonuclease
Authors:
Godoy, A.S, Douangamath, A, Nakamura, A.M, Dias, A, Krojer, T, Noske, G.D, Gawiljuk, V.O, Fernandes, R.S, Fairhead, M, Powell, A, Dunnet, L, Aimon, A, Fearon, D, Brandao-Neto, J, Skyner, R, von Delft, F, Oliva, G.
Deposit date:
2021-05-19
Release date:
2021-06-09
Method:
X-RAY DIFFRACTION (2.222 Å)
Cite:
PanDDA analysis group deposition
To Be Published


5SAA



PanDDA analysis group deposition -- Crystal Structure of SARS-CoV-2 NendoU in complex with Z319891284
Descriptor:
3-[(2S)-1-(methanesulfonyl)pyrrolidin-2-yl]-5-methyl-1,2-oxazole, CITRIC ACID, Uridylate-specific endoribonuclease
Authors:
Godoy, A.S, Douangamath, A, Nakamura, A.M, Dias, A, Krojer, T, Noske, G.D, Gawiljuk, V.O, Fernandes, R.S, Fairhead, M, Powell, A, Dunnet, L, Aimon, A, Fearon, D, Brandao-Neto, J, Skyner, R, von Delft, F, Oliva, G.
Deposit date:
2021-05-19
Release date:
2021-06-09
Method:
X-RAY DIFFRACTION (2.239 Å)
Cite:
PanDDA analysis group deposition
To Be Published


5SA8



PanDDA analysis group deposition -- Crystal Structure of SARS-CoV-2 NendoU in complex with Z68299550
Descriptor:
3-chloro-N-(1-hydroxy-2-methylpropan-2-yl)benzamide, Uridylate-specific endoribonuclease
Authors:
Godoy, A.S, Douangamath, A, Nakamura, A.M, Dias, A, Krojer, T, Noske, G.D, Gawiljuk, V.O, Fernandes, R.S, Fairhead, M, Powell, A, Dunnet, L, Aimon, A, Fearon, D, Brandao-Neto, J, Skyner, R, von Delft, F, Oliva, G.
Deposit date:
2021-05-19
Release date:
2021-06-09
Method:
X-RAY DIFFRACTION (2.298 Å)
Cite:
PanDDA analysis group deposition
To Be Published


7DJZ



Crystal structure of SARS-CoV-2 Spike RBD in complex with MW01 Fab
Descriptor:
2-acetamido-2-deoxy-beta-D-glucopyranose, CITRIC ACID, MW01 heavy chain, ...
Authors:
Wang, J, Jiao, S, Wang, R, Zhang, J, Zhang, M, Wang, M.
Deposit date:
2020-11-22
Release date:
2021-06-09
Method:
X-RAY DIFFRACTION (2.397 Å)
Cite:
Antibody-dependent enhancement (ADE) of SARS-CoV-2 infection requires FcgammaRIIB-mediated uptake of virus-antibody complex with bivalent interaction
To Be Published


7E7Y


5SAB



PanDDA analysis group deposition -- Crystal Structure of SARS-CoV-2 NendoU in complex with Z31504642
Descriptor:
2-methoxy-N-phenylacetamide, CITRIC ACID, Uridylate-specific endoribonuclease
Authors:
Godoy, A.S, Douangamath, A, Nakamura, A.M, Dias, A, Krojer, T, Noske, G.D, Gawiljuk, V.O, Fernandes, R.S, Fairhead, M, Powell, A, Dunnet, L, Aimon, A, Fearon, D, Brandao-Neto, J, Skyner, R, von Delft, F, Oliva, G.
Deposit date:
2021-05-19
Release date:
2021-06-09
Method:
X-RAY DIFFRACTION (2.486 Å)
Cite:
PanDDA analysis group deposition
To Be Published


7N33


5SA6



PanDDA analysis group deposition -- Crystal Structure of SARS-CoV-2 NendoU in complex with Z2856434783
Descriptor:
N-benzyl-1-(4-fluorophenyl)methanamine, Uridylate-specific endoribonuclease
Authors:
Godoy, A.S, Douangamath, A, Nakamura, A.M, Dias, A, Krojer, T, Noske, G.D, Gawiljuk, V.O, Fernandes, R.S, Fairhead, M, Powell, A, Dunnet, L, Aimon, A, Fearon, D, Brandao-Neto, J, Skyner, R, von Delft, F, Oliva, G.
Deposit date:
2021-05-19
Release date:
2021-06-09
Method:
X-RAY DIFFRACTION (2.517 Å)
Cite:
PanDDA analysis group deposition
To Be Published


7N0S


7E7X


7E86


7E88