Options for calculating MCS

< common options for finding MCS>
 -alg : Algorithm. 'B'uild-up, 'X':eXact,'P'ca-3D-fit '3'D(raw_fit) 'F':from file (-iam option).[B]
 -con : Connectivity.'D'isconnected,'C'onnected, 'S'ubstructure(A<=B), 'I'somorphic (A=B),
      :              'T'opo_constrained_disconnected  't'opo_constrained_connected)[C]
 -mtd : max difference of topological distance(num of bonds in the shortest path).0:don't care. [-1]

The option '-alg' specifies the algorithm for MCS. Its default is the Build-up method ('-alg B'), which is fast but sometimes inaccurate. The exact algotithm (-alg X) takes a longer computertional time (sometimes "very" long), but it returns the correct maximum common substructure.

The another important options '-con' and '-mtd' specify the connectivity of MCS. We recommend the C-MCS (Connected MCS) (-con C), because it takes a short computation time, the build-up can find almost exact correspondences. When more flexible correspondences are required, we recommend TD-MCS (Topologically-constrained disconnetecd MCS) with the maximum torelance of topological distance (-mtd).

 Connected MCS(C-MCS)        --> '-con C'
 TD-MCS with the tolerance=0 --> '-con T -mtd 0'
 TD-MCS with the tolerance=1 --> '-con T -mtd 1'
 TD-MCS with the tolerance=2 --> '-con T -mtd 2'
 Disconnected MCS(D-MCS)     --> '-con D'

Please note TD-MCS with larger tolerance value (-mtd) takes a longer computation time and the build-up algorithm more often fail to find the correct MCS. We do not recommend D-MCS (-alg D) and TC-MCS (-alg t) for any practical purposes.


 -at  : atomtype classification. 'X':don't care 'E'lement(C,N,O) ele+'R'ing (C,C@,N,N@)
      :   ele+'B'ond_num (C1,C2,C3) 'T':ele+bond+ring (C2,C2@,C3,C3@)
      :   'K':combu-recommend(C,C@,O,O@,O1,N,N@,N1,S,S@,P,X) 'D'abrl (D,A,B,R,L) 'k'cf [K]

Atom type classification is important for finding atomic correspondence. The option "-at" specifies atom type classification. The default option is "-at K", which is proposed in our paper (Kawabata,2011). This option '-at K' classfies atoms into 12 types: C,C@,O,O@,O1,N,N@,N1,S,S@,P,X. The atom types with '@' correspond to ring atoms. The atom types with '1' correspond to atoms bonded to one heavy atom.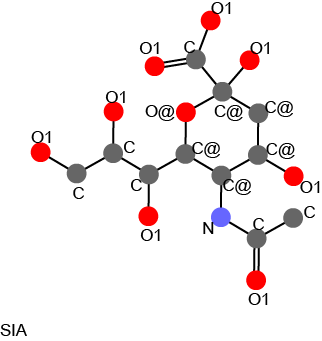 Example of the default atom classification for kcombu program (for sialic acids (SIA)).

 -bo  : bondtype classification. 'X':don't care, 'C'are SDF/MOL2-defined bondtype,
      :                          'R'otatable_nonrotatable. [X]

The option '-bo' specifies bond type classificaion. The default option is "-bo X", which ignores any bond types; single, double and triple bonds are considered to be equal. The option '-bo R' means that only two types of bonds are considered: rotatable and non-rotatable.

There are many other options especially for the heuristic build-up algorithm. Most of them are not important for users, the default values are recommended for the standard purpose. They are summarized as follows:

< other common options for build-up MCS algorithm>
 -nk  : Nkeep for build up [40]
 -w   : weighting scheme. 'D'efault weighting. 'S'pecified by user  [D]
 -wna : weight_select_dis for neighoboring atom type     [1.000000]
 -wec : weight_select_dis for extended connectivity      [1.000000]
 -wtd : weight_select_dis for topological distance       [0.000000]
 -wrk : weight_select_dis for rank by unique EC          [0.000000]
 -wco : weight_select_dis for num of connected component [0.000000]
 -nrs : Nonredundancy check using selection distance score ('T' or 'F')[T]
 -ec  : level of EC for scoring ('0','1','2','3','4') [2]
 -xtd : maximum topological distance for considering Dtopodis [4]
 -per : Equivalent Atom Permutation. 'F':false,'A':make all,'N'on-redundant 'B'uild-up_filter[F]
 -ctd : calculate topological distance (T or F) [F]
 -mco : maximum number of connected component. <=0:don't care. [-1]

 -bkmx: maximum number of atom pairs for Bron-Kerbosch [-1]
 -xsec: maximum computational time (in second) [-1.000000]